April 6th, 2013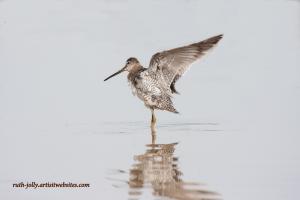 Dowitchers
Just a few years ago Long-Billed Dowitchers used to be intimidating for me to photograph they were always so fast and too far out for my little kodak to capture.I would dismiss them as "just shorebirds"go about my day and not even stop to observe them.Now they are one of my most favorite birds to photograph their changing colors from their drab grays to their brilliant shades of breeding plumage red.When I can capture one doing a wing flap when the color patterns of the underside of the wing really shows, or jumping into the air I feel like I have done something good for the day.
They are still fast birds and their seemingly endless sewing-machine motion makes it a challenge to capture one with his bill up or looking the right way.
I wonder if I am learning more then just how to be a better photographer from these birds I wonder if they are teaching me to not be afraid to try things that I though were once too hard.Some times you have to change the lens that you use and learn to be patient and wait for the little birds to do little things that are quite amazing to watch.